KNOW OUR ELECTRIC HAND THERAPY MASSAGER BY TOKFIT H2
Do you feel weakness, tingling or numbness in your hands? Pain and swelling in joints and wrists? Use TOKFIT H2 Hand Massager to say goodbye to Hand pain! The smart hand massager with heating function is available in 3 pressure modes and 3 intensity levels. It is the perfect home solution for arthritis, carpal tunnel syndrome, neuropathy, rheumatoid arthritis and general hand pain symptoms.
3 pressure Modes and 3 intensity levels
Air Compression massage: Awaken muscle vitality
Three-dimensional wave compression: Improve joint flexibility
3 Strength Modes: Gentle / Soothing / Strong
Surrounding massage: From the palm to each finger, get a deep kneading massage
Optional Soothing Heat
The electric hand massager has 2 heating levels to select according to individual needs & preferences.
Optional heat feature, the gentle heating helps promote blood circulation and ease any swelling on your hands.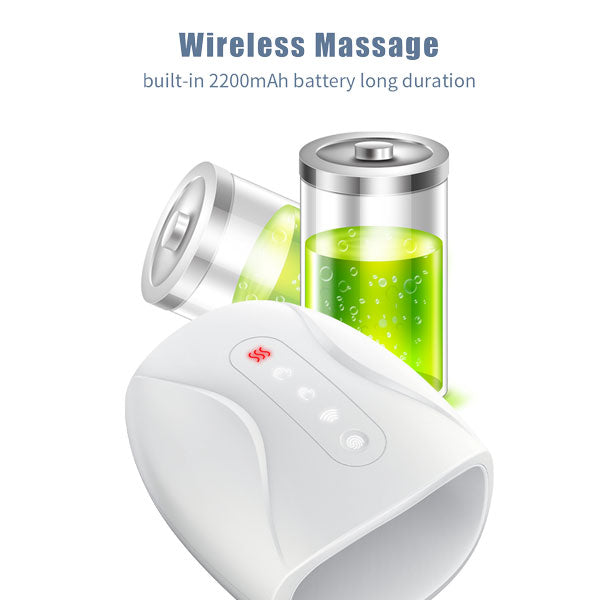 Long-Lasting Battery Life
Wireless hand massager built-in 2200mAh rechargeable lithium battery can last 60-90 minutes after a full charge, which allows to make a hand massage trip anytime and anywhere. TokFit cordless massager soothes the hands and fingers from the top to the bottom for that relaxing feeling. This hand massage machine is lightweight & portable. So you can use it everywhere.
Kneading, air pressure, heat 3 in 1
Choose big or small hand massage mode, it can massage and relax your whole hand according to the ergonomic. Top and bottom airbags rhythmically press along the fingers& hands, it is more beneficial for hand pain relief, avoid joint pain. Fingers, joints and wrist pain relief with effective compression therapy.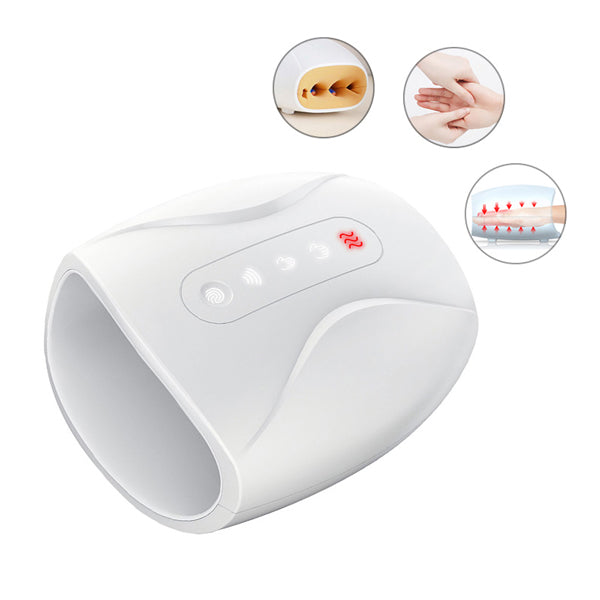 Ideal gift choice
A relaxing hand massager is essential for everyone to relieve hand tension or soreness after a busy day. It is an ideal hand relaxation gift for your wife, mother, girl friends and other families or friends to relaxing their hands and improve blood circulation.
WHAT ARE INSIDE THE BOX?
1 * Original storage box
1 * Hand Massager
1 * USB Cable
1 * User Manual
Product name: Intelligent hand massager
Weight: 750g
Dimensions: 210 *178 *104mm
Massaging Intensity: 3 levels of massaging intensity
Battery : lithium battery 2200 mAh
Rated Power: 8W
Rated Voltage: DC 5V-1000mA
Charging Time: 1-2 H
Auto Working Time: 15 Minutes
Battery Life: 1-2 H
Shipping Policy
Shipping Area and Postage
Free Shipping and No Tax to 96 Countries. The tracking information will be updated only when your board arrives in your destination country.  
Processing time
We need 12-24 hours processing time and then your order will be shipped.  
Delivery Times
It's our goal to make sure your order is processed quickly and efficiently. We will ship your order within 24 hours. (In very few cases, we can't within 24 hours, but we promise to ship it within 5 business days.) Please allow 5-10 days for your shipment to arrive at your address.( Due to the impact of COVID - 19, the number of transportation flights decreased, which affected the progress of shipping. It may take 10-15 days. ) However, due to our inability to control the transportation, the arrival time will be different according to the actual situation. Please check the picture  to confirm how long it will take for the delivery.  
Any delivery dates provided by TokFit are estimates. We will send you an email when your order has shipped and you may review your order and shipping & handling information on your TokFit account if you have registered. If you haven't registered on our site, you could also track your order here (Track your order) with your tracking number. For more shipping information, you could contact us by leaving a message. We will get back to you in 24 hours. 
Warranty
If the product fails within one year due to defects in the materials or design process, the company will repair or replace parts or replace the new product for free, except in the following cases:

1. Improper use of personnel or damage to equipment due to transportation reasons.
2. Unauthorized disassembly and repair of this equipment.
3. Product damage due to abnormal customer storage or maintenance environment.
4. Failure to follow the instructions may cause product damage.

TokFit products are made with high-quality components and are durable. In the event of any failure, your limited warranty includes:
TokFit device and motors - 1 year
TokFit lithium-ion battery - 6 months
TokFit massage attachment - 6 months